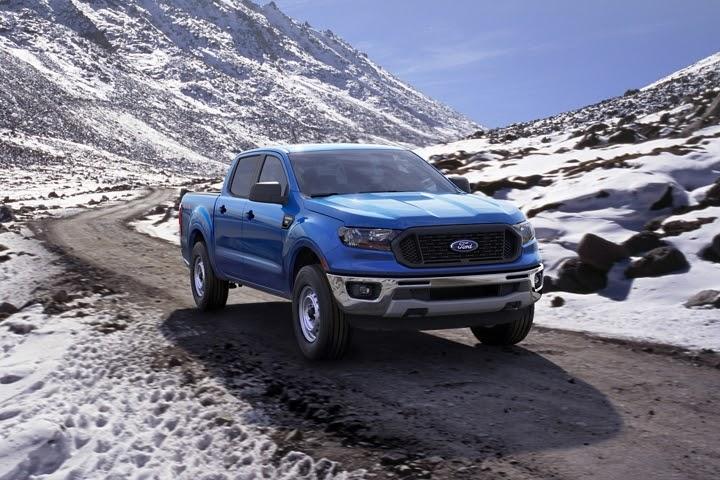 We know that driving in Ontario isn't for the faint of heart, but never fear! Your team at Performance Ford Windsor on Provincial Road is prepared for all contingencies. With service team professionals trained specifically for your Ford vehicle, you are in the best of hands.
We also know that in order for you to feel confident about driving in inclement weather, winterizing your vehicle and having all the latest technologies and safety features at your fingertips makes a world of difference.
Winterizing
Winterizing your vehicle is an absolute must for Canadian drivers. In one service appointment, our team can save you time, money, and aggravation over the long, snowy months ahead.
Once the temperature begins to consistently hover around freezing, it's time to bring your vehicle into our service department for winterizing. We know exactly how to prepare your vehicle for the season ahead. In addition to other checks, we will inspect your battery, add antifreeze to your coolant system, change your oil to one with more viscosity, and even check your windshield wipers.
Another important part of winterizing your vehicle is to stock it with important items in case you're unexpectedly stranded. The more comfortable everyone can be while waiting, the better!
Recommended items include, but aren't limited to:
Jumper cables

Small tool kit

Tire-changing essentials - jack, lug wrench, spare tire, even a small piece of cardboard for kneeling

Tire chains

Tire gauge

Warm blanket, extra mittens/gloves

Paper towels and antibacterial gel or wipes

A few water bottles

Non-perishable snack foods - trail mix, nuts, jerky, hard candy

High-beam flashlight

First-aid kit - don't forget any essential medicines
If you have children traveling in the vehicle, you also may consider adding:
Extra blankets and/or a pillow

A deck of cards, some books, a magazine

Extra snacks and water
Technology & Safety Features
Many of these features come standard on most new Ford vehicles. Ask a member of our team about the ones that interest you.
Head-Up Display
Your eyes should always be on the road. This is even more true when you are driving under difficult conditions. The Head-Up Display is available on most models and is designed to show images on a display screen in front of you as you look through the windshield. You'll receive images including current speed, navigation, and information regarding your pre-collision assist and adaptive cruise control. This available feature is perfect for first-time drivers or consistent commuters.
Selectable Drive Modes
This feature is not standard on most models; however, for those of us driving on challenging surfaces, it's worth every penny as an add-on. Designed to help improve your overall experience and handling on road surfaces, the modes available for selection - normal, eco, slippery, sport, and deep snow/sand - modify the electronic stability control system and traction control system, giving you extra confidence as you drive.
Rain-Sensing Windshield Wipers
You may think Rain-Sensing Wipers seem more like a luxury than a safety feature. However, if you find yourself in a sudden storm, these wipers are invaluable. As soon as moisture is sensed on the windshield, these wipers activate to provide you with a clean and clear windshield. Besides, who said you can't have both luxury and safety, too?
WAZE Technology Innovation
Available on most vehicles, this accessory is just another way we try to keep your drive safe (and convenient). With WAZE technology, you can outsmart traffic by sharing information to get the best routes, and receive real-time alerts about accidents, road hazards, and traffic jams. This system can be operated through your vehicle's touchscreen, as well as through voice commands for hands-free control.
Auto High Beam Headlights
Offered as a standard feature, the auto beam headlights can sense poor lighting conditions and automatically turn on to increase visibility. As an added plus for highway driving, it also senses when another vehicle is coming from the opposite direction and dims automatically.
Be sure to ask about the Ford Co-Pilot 360 Safety Package. This driver-assistance package comes standard on most new Ford vehicles and includes literal lifesavers like Blind Spot Information System with Cross-Traffic Alert, Lane Keeping System, Pre-Collision Assist, and Reverse Brake Assist. This comprehensive package contains our most innovative safety features, which are definitely worth exploring with your salesperson.
Whether you're driving in inclement or everyday weather, at Performance Ford Windsor on Provincial Road, your safety is our top priority. Ask one of our professional team members about all the standard and available safety features for the vehicle in which you're interested. You'll feel so much more confident knowing we've got you covered.